...well, we never would have evolved to what we've become.
We've been a music-making collective since late 2001, but more than that, it feels like we've been family for a lot longer. Yes, MISC was technically started back during the late 90s when Tibbz and DTech were rockin those Timbs and Fubu jerseys in high school.
The years blew by, the family grew, and so did all the experiences shared by this group of ragtag mischief-making boys who would make "Dumb and Dumber" look like a mere SNL short.
And maybe that's why our official first album has taken almost 9 years (and counting). Maybe because we've never forgotten that we're friends first....bandmates second. And that hanging out and supporting each other personally will always take shotgun to business.
But amidst all of that, the music was kept breathing, and the sound also evolved with every turn of the plate, every chug of the bottle, every torn out notebook page, every dusted off sample, and every bad-burned cigarette.
From our instrumental CD sets...turned into turntable medleys...turned into live band sessions...turned into the push-button MPC eletricity we now bring ya'll...
it's been one funky ass ride. So far ;)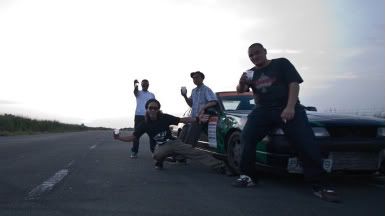 Good times.
Miscellaneous and we out like Pras' fanbase...
- Switch