Ok...you got Switch here for the Wednesday Report.
I guess seeing that this blog will be the official MISC page where all
content and other goodies will be fed and/or linked to, maybe I should
dedicatethis post to letting ya'll out there know exactly...
WHAT'S THE AGENDA!?!?
Yes with the album currently being cut, cooked, and plated for your palate,
it seems as if we still manage to keep ourselves occupied with our own "thangs" and do a lil' "somethin-somethin"
So here's what's up...
MISCELLANEOUS will be live and performing tomorrow (April 15 2010)@ B-SIDE along Malugay Street in Makati for another Locked Down night. We're taking a break with our album work to join our friends and label mates for a good night of music in one of the (relatively) new and organic venues in the scene. Check it: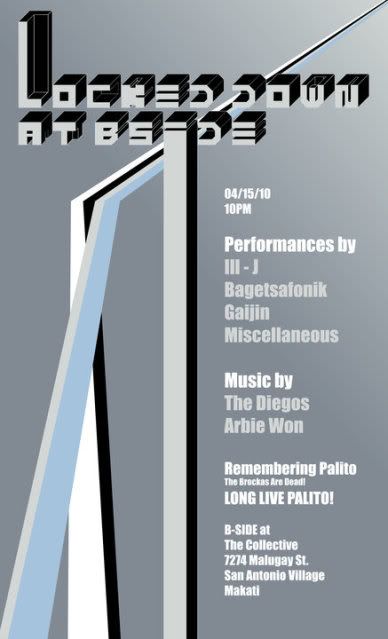 Last time (and the first time) we performed at B-Side was for the Out of Body Special's "Delikado" video launch and the experience was electric. Comparable only to the sensation of chugging a whole pack of pop rocks with a soda chaser.
So we're really excited for this one ;)
..........
(In the most campy tv-shopping network voice) BUT WAIT...THERE'S MORE!
Ya'll know that we also DJ and dabble in other paint cans so here are the side/solo projects of the boys...

On Friday, April 17...Nyko Maca + Playground reincarnates the 70s carioca soul/funk movement, brasilipino style with our very own Tibbz hitting up the pads and samples!
They'll be rockin it at Martinis at the Mandarin Hotel from 10pm onwards.
And every Saturday, ya'll know what it is. It's SAKE TO ME BABY! happening at Izakaya Bar in Greenbelt 2. D'Tech, Switchtrik, and Umph on deck with special guest DJs serving up mixes of soul/funk/rnb/hiphop/club mayhem.
Check the STMB Facebook group:
http://www.facebook.com/group.php?gid=360531990428&ref=search&sid=1646251190.1590224756..1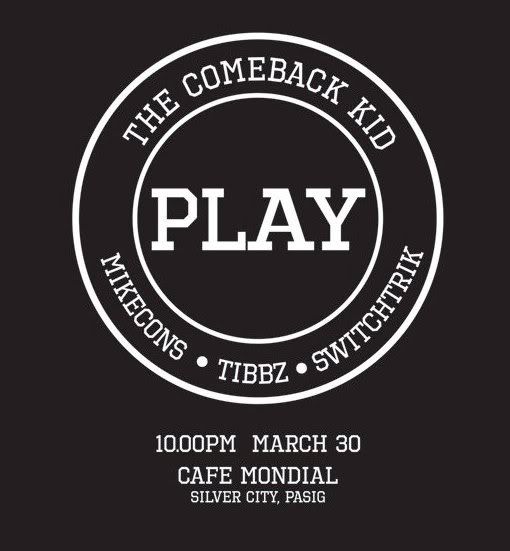 And of course...our baby bread and butter...
PUH-LAAAYYY TOOOOZZZ-DAAAAYYYY!!!!
Every Tuesday at Cafe Mondial, Silver City, Ortigas.
Nothing but good old school hiphop/neosoul/funk/soul/disco from a rotation that features Tibbz, Switchtrik, Dtech and Umph.
It's all good people, good music, shots of crazy fun and one steady positive vibe.
Start penciling in your calendars and we hope to see ya'll at those spots!
Wow ok, I gotta jet outta this here post and get back to the grind...
Peace and love.
Miscellaneous! And we out like elephant pants yo!